DUDLEY DIX YACHT DESIGN
DH550
Wood/epoxy cruising catamaran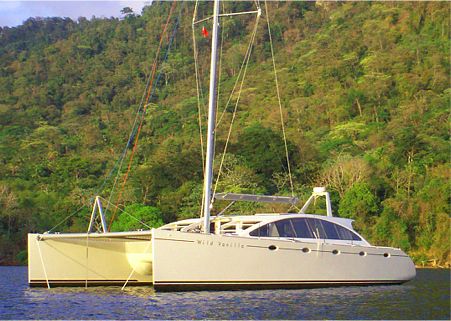 DH550 Hull #1, "Wild Vanilla"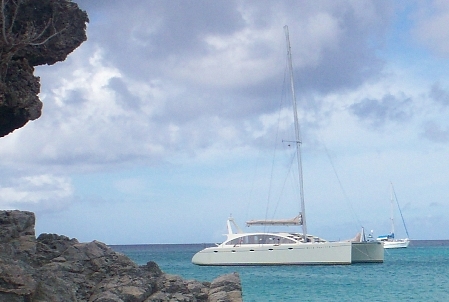 Anchored in Venezuela
The DH550 cruising catamaran started life as a design commission received by Dudley Dix from catamaran builder Philip Harvey. Phil was cruising with his family and wanted to move up to a larger boat. Dudley had too much work in progress to be able to take on the new design so the two agreed a cooperative basis to do the design between them. Dudley brings 30 years of design and boatbuilding experience into the project and Phil brings 15 years of professional boatbuilding and catamaran experience. Between them they have produced a cruising catamaran with striking good looks and high-performance potential.

Construction is a further development of the radius chine plywood concepts that Dudley has drawn since the early 1990's. These concepts started with the monohull Didi 38 "Black Cat", which he built to test the construction method then sailed across the South Atlantic three times. Since then he has developed other performance oriented monohull designs of similar concept, from 21 to 42ft LOA. As of October 2006, nearly 300 boats to this method are in build or sailing worldwide.

As successful as the radius chine plywood monohull designs have been, this project has shown that this construction method is even better for catamaran hulls than it is for monohulls. The hulls of Phil's DH550 were quick to build and are fair and pretty to look at.

"Wild Vanilla" exiting the building shed
This is a big and powerful boat and it is intended for cruising the oceans of the world. To take on that role, it has 1m (39") bridgedeck clearance to minimize slamming in big seas. The hull/bridgedeck junction has received particular attention to ensure that the loads imposed by rig and ocean are properly transmitted and shared between them. Carbon composite chainplates are laminated to the inside and outside of the hull and spread the rigging loads down into the hull skin, longitudinals and bulkheads. The mast stands on top of a major transverse bulkhead that is configured as an I-beam to spread the compression load laterally into the hulls and is tied into longitudinal bulkheads that spread the load fore/aft into the bridgedeck structure.

The interior arrangement is modeled around 2 cabins in each hull, sharing a common heads/shower area that separates them for privacy. That makes this boat suitable for 4-couple bare-boat charter work. An alternative hull accommodation arrangement will also be offered, with a larger owner's cabin in one of the hulls.

Bridgedeck accommodation is spacious, with separate galley, steering, navigation, dining and relaxation areas. Forward of the bridgedeck accommodation is a small forward working cockpit that gives access to the base of the mast and all control lines. Aft there is a large relaxation cockpit protected by the roof overhang, with easy access to transom steps down to swim/boarding platforms and a full-width aft bridgedeck platform.

The underbody is clean and easily-driven, with long waterline for high performance. A vertical daggerboard in each hull gives windward ability along with the ability to enter shallow water. In August 2011 we have added the option of fixed cruising keels as well. The shaft-mounted rudders extend to below the propellers to protect them from damage.

The rig has an aluminium mast with double diamonds to keep it straight. It is held by upper and lower single shrouds that are angled well aft to properly support it in all wind directions. Headsails are sheeted to the forward bridgedeck and the mainsail is sheeted to the cabin roof over the aft bulkhead.

The DH550 is a boat that offers comfortable fast cruising. It is already proving popular, with four sold and in-build before the first boat was launched. This will be the first in a series of radius chine plywood catamaran designs that will be developed by Dudley Dix and Philip Harvey.

Material List for woodwork
List of drawings
CHARACTERISTICS
LOA 16.75m [55' 0"]

LWL 15.70m [51' 6"]

Beam overall
8.70m [28' 7"]

Hull beam
2.00m [6' 7"]

Draft 0.75/2.19m [2' 6"/7' 2"] (boards)
1m [3' 4"] (cruising keels)

Displ 12500kg [27550lb]

Main + Jib
133.5sq.m [1437sq.ft]

Powering
2 x 50hp diesel

I = 17.84m [58' 6"]

J = 5.96m [19' 6"]

P = 18.40m [60' 3"]

E = 6.10m [20' 0"]
OUR CONTACT DETAILS

Click here to contact us by whatever method suits you.
This page was updated 7 July 2022
© Web design by Dix Design